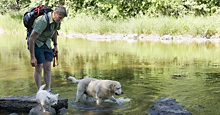 One North Carolina native believes she has found a way to unlock the beauty and wonders of nature to America's internet-crazed youth.
For Ellen Eastwood the answer lies in four paws and a discriminating nose. Her guidebook, "The Trail Hound's Handbook, Your Family Guide To Hiking With Dogs," teaches kids how to have fun in the wilderness with man's best friend.
"Your dog sees the world differently than you do," Eastwood said. "They help you get more involved in the hike, even if they are just sniffing something on the trail."
Eastwood grew up in Ashville, N.C., nestled in the Blue Ridge Parkway. The historic frontier town was called home to literary greats such as Thomas Wolfe, Carl Sandburg and F. Scott Fitzgerald.
Some of that writing tradition rubbed off. Eastwood graduated with a journalism degree from University of North Carolina at Chapel Hill. After college she worked at a Boston ad agency where she clocked long days and lived hours away from her Appalachian roots.
Hiking programs with her church group kindled a love of the outdoors when Eastwood was in junior high. Her family lived three miles from the entrance to the Blue Ridge Parkway, and Eastwood frequented the heavily forested hills.
Boston was a world apart. Life as an advertising executive paid the bills but did not stir the heart. Although she enjoyed Boston's career opportunities and rich history, Eastwood missed the quiet and simplicity of her Appalachian home. After four years Eastwood returned to North Carolina.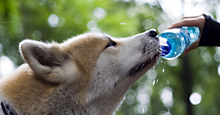 With dog as her guide, Eastwood headed back out on the trail. Eastwood quickly realized her faithful companion was much more aware of his surroundings that she was.
"A dog investigates the surroundings as soon as it gets out of the car," Eastwood said. "They know more in five minutes than we ever will."
Strolling beside mountain streams seemed like taking a London tour with Sherlock Holmes. New smells, nooks and crannies, trail scat—all of it formed a wondrous volume of biological insight to her companion's nasal glands and natural sense of curiosity.
"All around you is green and alive," Eastwood said. "Dogs help you appreciate nature."
As they walked Eastwood took mental notes of her dog's insights and physical condition. That formed the basis of her recent book. It is written it in a conversational voice as if she were having a chat with her daughter.
"This is about kids and dogs rolling off the couch and doing something outside together," said Eastwood, who now lives in Southern California and hikes along the coastal mountains. "I have my own children and you cannot tell them to enjoy something. You can give them an opportunity to do something different and make discoveries on their own."
Young hikers, in particular, may not be attuned to their dog's needs. Eastwood's guidebook addresses how hikers can assess their pets before, during and after hike.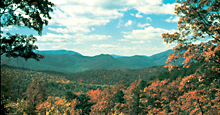 Eastwood offers the following guidelines when kids take the family dog out for a hike:
Perform a basic evaluation of your pet and always be aware of his state of health during the hike. Older dogs may have difficulty completing a long hike. Dogs with long fur can overheat quickly. "You may not be having any problems while hiking but your dog may be panting heavily," Eastwood said. "Don't push him too hard."
Bring a sweater as well as water and food for both of you. A collapsible dog bowl is a convenient way to keep your pet hydrated. A good rule of thumb: Turn back when half of your water supply is gone. Never let your pet drink from "fresh" water sources, which are full of foreign bacteria.
Practice good trail etiquette. Said Eastwood, "Pack out the poop and other trash, keep your dogs on a leash and practice 'bark control."
Check the pet regulations. Some county, state and national parks do not allow dogs on trails. Most require them to be leashed at all times.
Shorter autumn days and cooler evenings can lead to problems quickly. Leave plenty of time for the return hike before dark.
"As a parent you can make hiking with the family dog not just exercise but an adventure," Eastwood said.
Article by Jay Alling, editor of Sensible Driver. Write to jay@sensibledriver.com.