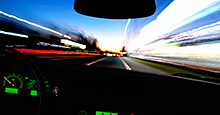 Cameras similar to those worn by thrillseekers are finding their way to the dashboards of safety-conscious drivers.
"Dash cameras are helpful in hit-and-run collisions – or other situations where you'd want to get someone's license plate," said Johan-Till Broer of Garman, a Kansas-based electronics company that started making dash cameras this year.
Such cameras have been a staple for law enforcement for decades and recently have become widely available to consumers. The device records exactly what went down and can provide both a definitive account for its owner and a potential safeguard against fraudulent lawsuits.
The best cameras are discreet, easy to use and basically become an afterthought once installed, Broer said.
"The less you have to think about it, the better," he said.
Dash cameras demand continuous power supply. The camera itself records when the car is running,
"Get one that switches on and off with the car's electrical system so it doesn't drain the battery," Broer said.
Ideally, a camera films when the car is running and breaks the footage into 3- to 4-minute chapters, he said. If the data on the external memory card is not downloaded to a computer, newer footage loops over the old when the card becomes filled.
"You want something fully automated," Broer said. "No one wants to turn on the camera every time they start the car or keep changing SD cards when they get full. You only want to think about the camera when you need it."
Cameras typically are small enough to be stashed in front of the rearview mirror. Such a placement not only remains out of view of the driver but provide an ideal lens position, Broer said.
"You want to position it toward the middle of the windshield," he said.
Most cameras feature wide-angle lenses, he said, enabling them to view everything within the frame of your windshield.
A camera with a display screen is helpful, Broer added, because there's doubt about what is in the camera's field of vision.
GPS and impact detection are offered on higher end models, Broer said. If triggered, the camera automatically saves the chapters immediately before and after the impact, as well as the crash itself.   
Installing a camera doesn't require special installation. Models come with suction cups or adhesive mounts and a cord that plugs into the vehicle's power adapter. No tools are required for a basic installation, Broer said.
Broer offers the following suggestions to those looking at buying a dashboard camera:
Buy a camera you don't have to think about or pay attention to. The camera should be powered by your vehicle's electrical system and the recording should be automatic.
Mount it behind the rearview mirror. The centralized placement gives the camera the best view and keeps it out of your line of vision.
Resolution matters. A high-resolution model provides the cleanest video and can help you identify someone's make, model or license plate in the case of a hit-and-run.
Look for intuitive features. A display will show you what the camera is recording in real-time, inclusive GPS will log location data into each video clip and an impact sensor will automatically save footage in the minutes before, during and after a collision.